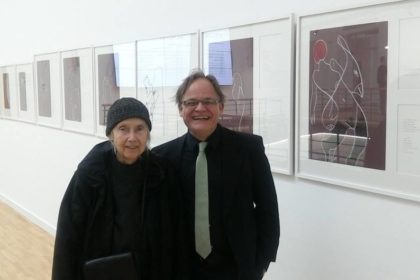 Aldona Gustas "Women's Voices" art show opens  in Wilna on April 11 2017
The prestigious National library  M. Mazvydas is a great location to host Aldona Gustas' exhibition,  an excquisite series of playful erotic drawings with the German title "Mundfrauen" ("Women's Voices") . The series is part of the main graphic work of the Lithuanian born artist and writer, who fled to Germany during World War II and who would later become known as the founder of the legendary artist group Berlin-Painterpoets.
Die meisten Blätter der minimalistischen erotischen Zeichnungen von Frauenfiguren entstanden in den 90er Jahren. Einige, aus der Reihe "Häuserjongleurinnen" nach der Jahrtausendwende, ausgewählte tauchen auch in ihrem Gedichtband "Würfelwörter" und anderen ihrer Bücher wie "Asyl im Gedicht" u.a. auf.
In den "Mundfrauen" kommen Hauptthemen des lyrischen und zeichnerischen Werkes von Aldona Gustas vortrefflich zum Ausdruck: Liebe und Erotik, Weiblichkeit, Berlin. "Sie zeigen geheimnisvoll verbogene, kleiderlose Frauenkörper, die in zahllosen, fantasielustigen Variationen und meist runden Linien schwingen, die mal vage, mal ganz klar Brüste und Geschlechter und auch deren Begegnung skizzieren oder überraschend in merkwürdigen Fisch- oder Vogelkörpern ausufern. Meist schwarze Linien auf weißem Papier, seltener auch weiße auf braunem oder farbigem Papier, fast immer akzentuiert durch klein tanzende, leuchtend rote Striche oder Punkte – die Münder." (Goethe-Institut Litauen)
Die von der Browse Gallery (Berlin) kuratierte Wander-Ausstellung wird seit Oktober 2016 vom Goethe-Institut Litauen über zwei Jahre an verschiedenen Orten in Litauen gezeigt. Viele Bilder werden zum ersten Mal ausgestellt. 60 Motive der Serie wurden erstmals 2014 in einer Ausstellung in der Browse Gallery in Berlin gezeigt.
By invitation of Goethe-Institute Lithuania Aldona Gustas and Browse Gallery curators  join the exhibition opening

Aldona Gustas war schon lange nicht mehr in Litauen und freut sich anlässlich der Eröffnung, ihre Kindheitsorte wieder besuchen zu können. 1941, nach der ersten Besetzung Luitauens durch die Sowjetunion, war sie aus Litauen nach Deutschland geflüchtet und kam 1946 nach Berlin.
Vor der Eröffnung zeigt Aldona Gustas ihren Galeristen John Colton und Sabine Drwenzki Orte der Erinnerung, wie den alten  Wilnaer Bahnhof,signiert ihr neues Buch "Zeit zeitigt",
taking a look at the exhibition before the opening in the beautiful gallery on the fifth floor of the National Library,  chatting with Detlef Gericke, director of Goethe-Institute Lithuania
and members of his staff.
Aldona goes through a lot of Lithuanian media interviews as the interest in the Berlin Painter Poet with lithuanian roots is substantial.
at the end of the day, the work is all done, Aldona and her hosts look happy. Time to enjoy the city and a bit of sun.
Aldona Gustas und die Mundfrauen
Di, 11.04.2017 – Fr, 19.05.2017
Litauische M. Mazvydas Nationalbibliothek. Gedimino pr. 51, Vilnius
Ausstellungseröffnung 11. April 2017, um 18 Uhr