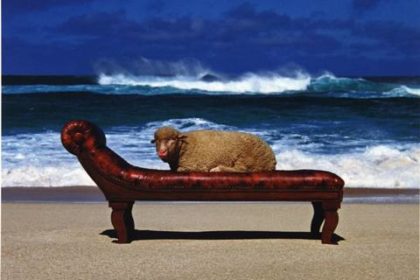 Avantgard phtography and pop music entered a symbiotic relation in the USA and Great Britain after the war. Famous modern photographers like Robert Frank,  Eugene W. Smith or Robert Mapplethorpe produced photo portraits of musicians like John Lennon, David Bowie or Rolling Stones, which contributed largely to their icon status. At the same time in the late 1960s artists and photo designers started to collaborate with pop musicians in the creation of album covers, applying creative visual means which would communicate the distinct feeling or messages of an LP into single images – some of which have embedded themselves deeply into the collective memory of several generations.  The names of these photographers and artists are often little known to the general public and acknowledegement of the artistic merit of their works is still awaiting broad recogition. However, some of these creative heads have influenced the development or expressive means in modern art and photography. Discover with Browse Gallery some of the protagonists of this avant-garde.
Aubrey 'Po' Powell,  Storm Thorgerson and  their legendary photo design studio Hipgnosis are first on our list. Their surreal photo collages and highly sophisticated montage techniques make us think of Man Ray or John Heartfield – also in the social commentary in some of their images.  And with their elaborate photo design work and complex image creation they produced fantastic imagery long before the advent of digital photo editing, instead creating the very requirements of its later development with software like Photoshop. They worked closely together with world famous bands like Pink Floyd, Peter Gabriel, 10 cc, Led Zeppelin, Black Sabbath, Scorpions and many more – rebels in pop music who had and have something of meaning to say to us.
Update (June 2018): In cooperation with Aubrey Powell,Browse Gallery will show a large exhibition with the best of Hipgnosis' album cover art and photography at European Month of Photography Berlin (EMOP ) 2018: Daring to Dream.  50 Years of Hipgnosis. Photo Design and Album Cover Art by Aubrey Powell and Storm Thorgerson, September 30 – October 28, Bergmannstr. 5, 10961 Berlin.
Peter Gabriel talks about his passsion for "Album Cover Art"
Video with Peter Gabriel, © Hypergallery 2014, album cover image: Peter Gabriel, Scratch, design by Hipgnosis, © Peter Gabriel
Hipgnosis – Album Cover Art on its way to cult
Way back in 1967, when Pink Floyd comprised of Nick Mason, Roger Waters, Rick Wright and (just) Syd Barrett, Aubrey Powell and  Storm Thorgerson  volunteered to step in and design a cover for their friends' album A Saucerful of Secrets. It was to be the beginning of a long relationship that has survived for fifty years and many, many album covers, photographs and creative wizardry.
This led to an offer more work. At first, as film students, they were able to use the darkroom at the Royal College of Art, but as commissions came pouring in to create more album jackets they formed the legendary British photo design group Hipgnosis. Hipgnosis specialized in album cover art and created many iconic album covers for some of the best known and most loved music bands of the late 20th century: Pink Floyd's Atom Heart Mother, The Dark Side of the Moon, Wish You Were Here and Animals, Led Zeppelin's Houses of the Holy and Presence, Peter Gabriel's Scratch, Melt und Car, Genesis' The Lamb Lies Down On Broadway and A Trick of the Tail  – to name only a few. Powell and Thorgerson adopted the name Hipgnosis from a graffiti they found on the door to their apartment, allegedly created by their friend and genius wordsmith Syd Barrett. Thorgerson said they liked the word, not only for its pun on "hypnosis" but for possessing "a sense of contradiction, of an impossible co-existence, from the word 'hip' meaning cool and 'gnostic', related to ancient learning". By 1970 the two founders of Hipgnosis had rented space in Soho, and they were ready to take on their exciting future.
Powell and Thorgerson worked together as a team in Hipgnosis  for fifteen years, during which time the company designed covers for many prestigious clients, including Pink Floyd, Led Zeppelin, Paul McCartney, Genesis, Peter Gabriel, Peter Frampton, Yes, Robert Plant, David Gilmour, and the Rolling Stones. They gained international prominence in 1973 with their Grammy nominated cover design for Pink Floyd's The Dark Side of the Moon. This marked a turning point in the success and recognition of Hipgnosis as having a unique approach to what they termed as 'photo design'. The surreal images, being photography based, pioneered the use of many innovative visual and unusual packaging techniques. Their elaborately processed photodesigns (collage, montage, darkroom tricks, multiple exposures, airbrush retouching, and mechanical cut-and-paste techniques) were created many years before the advent of computerised photo editing.
Hipgnosis primarily used Hasselblad cameras for their work, the square film format being particularly well suited to the 12″ x 12″ canvas of album cover imagery. Their pictures were noted for their quirky humour, puns, double entedres, and narrative, often with references to a band's music and lyrics. Since Powell and Thorgerson were both film graduates, they used movie style sets and set ups to stage their photos in a highly theatrical and dramatic manner. Their photo designs rarely featured pictures of musicians, much to the chagrin of record companies, and more often than not Hipgnosis refused to put the title or name over their front cover image, believing that "a good image will sell the product on its own".
After Powell and Thorgerson stopped working together under the roof of Hipgnosis, Pink Floyd commissioned Storm Thorgerson for their album cover art. But both artists remained creatively involved with the band and Hipgnosis kept on thriving in their work .
Storm Thorgerson continued to design album covers for Pink Floyd and others as STd (Storm Thorgerson Design) and latterly StormStudios. His inseparable relationship with Pink Floyd lasted right through to the end of his life, in 2013.
Aubrey 'Po' Powell has maintained his creative relationship with Pink Floyd and David Gilmour, most significantly as their Creative Director and curator of   Pink Floyd.Their Mortal Remains, the major Pink Floyd retrospective exhibition which was shown at London's  Victoria and Albert Museum from May to October 2017 and which will open in U-Turm in Dortmund September 15 2018, after a stop in Rome, Italy.
Text source on Hipgnosis: Hypergallery/pinkfloydprints.com