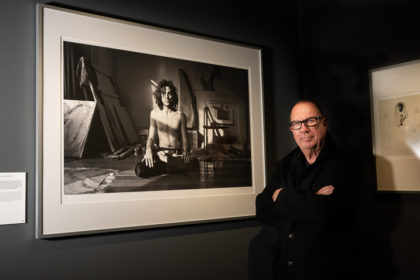 Pink Floyd's Creative Director and Hipgnosis co-founder Aubrey Powell did not want to exhibit Hipgnosis' works for several years after the death of his partner and friend  Storm Thorgerson in the year 2013. When the BROWSE GALLERY approached him early in 2018, he was ready to agree to put up a major Hipgnosis retrospective of iconic album cover art prints and artists' portraits – large Silcscreen and Fine Art prints signed and in limited editions – in the context of European Month of Photography EMOP Berlin 2018.
After a fantastic opening weekend with hundreds of people enjoying the exhibition and presence of the artist, Aubrey signing books and talking about Hipgnosis and the partnership with Storm Thorgerson after the film screening of Roddy Bogawa's "Taken by Storm" and after a broad and appreciative media coverage, the exhibition has drawn a huge amount of visitors continuously. Enthusiastic responses, word of mouth and personal recommendations by exhibition visitors in social media have done their bit to fuel the overwhelming public interest.
On popular demand we have extended the duration of the exhibition for 2 weeks. DARING TO DREAM. 50 YEARS OF HIPGNOSIS will be on display at the BROWSE GALLERY, Bergmannstr. 5, 10961 Berlin until November 11, 2018.
For all those who have not yet seen the exhibition, the short video by filmmaker and photographer John G. Moore may give a nice sneak-preview of the experience.