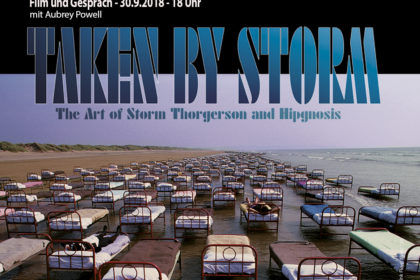 The Film screening  and talk will be presented  on  30.9.2018 as part of the side program to the exhibition Daring to Dream. 50 Years of Hipgnosis. Photodesign and Album Cover Design by Aubrey Powell and Storm Thorgerson.
The documentary film (2015, 1:25 Min., Engl. OV) by Roddy Bogawa tells the story of the acclaimed photo designer Storm Thorgerson (1944 – 2013) who co-founded the British art house Hipgnosis in 1968 with Aubrey Powell. Until 1983 they designed some of the most iconic album covers in music history: The Dark Side of the Moon for Pink Floyd, Houses of the Holy for Led Zeppelin, to name only a few. After 1983 Thorgerson continued with artwork for Pink Floyd, The Cranberries, The Mars Volta, Muse, Steve Miller etc. produced by StormStudios.
The film portrays a man's artistic journey amidst technological change; its effect on image making, our collective memory, and culture.
Through interviews with colleagues and clients the film reflects on Storms's inspiration and idiosyncratic creative processes – which include "building props and shipping them to exotic locations or staging large events for a singular image in light of computer technology." (Roddy Bogawa)
Featuring: Storm Thorgerson, Aubrey Powell, David Gilmour, Nick Mason, Robert Plant, Peter Gabriel, Graham Gouldman, Alan Parsons, The Cranberries, Muse, The Mars Volta, Sir Peter Blake, Damien Hirst, Jill Furmanovsky a.o.
After the screening there will be Q & A with Aubrey Powell.
Official film trailer
Film screening and talk: 30.9.2018, 6 p.m.
Taken by Storm. The Art of Storm Thorgerson and Hipgnosis.
Documentary film (2015, 1:25 Min., English OV) ny Roddy Bogawa.
Location: Browse Gallery exhibition space, Bergmannstr. 5, 10961 Berlin
Admission: 6€/reduced price 4€ (please reserve a seat here browse.gallery/contact)
Presented by Browse Gallery in cooperation with Community Impulse Inititaive e.V. and HiFi im Hinterhof within European Month of Photography Berlin 2018.