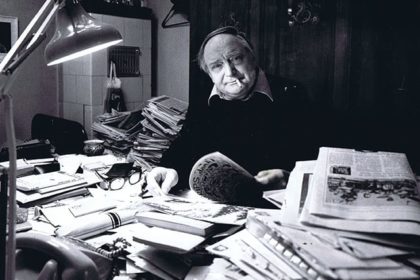 March 8th is International Women's day and also the birthday of multitalented West Berlin artist and Painterpoet Robert Wolfgang Schnell. During his lifetime he enjoyed that coincidence.
Schnell has always shown himself to be a political mind, even in his artistic work. He was convinced that without social justice there will not be real freedom or peace. As founder of the legendary Kreuzberg gallery die zinke  zinke (1959) and as a member of Berliner Malerpoeten /Berlin Painterpoets group he and his colleagues strove to create art which would lead to the realm of   " the imaginary, the relaistic, the ironic, the dreamlike – into a world of lived out peace". (Robert Wolfgang Schnell)
Some of Schnell's paintings are currently on display in the exhibition Oxymora, – Berlin Painterpoets and contemporary Lithuanian artists at Leipziger Baumwollspinnerei (until 25.3.2017).
Schnell was a Renaissance type artist in a modern sense. He wrote stories,novels, poems, he drew and he painted but also he worked as an actor, director, screen writer, cultural critic and more.
He represented a kind of art which refuses to go along with "trends and arbitrary twists and turs of  the art market", as Jürgen Kleindienst has noted in his article  (in GER) on the exhibition Oxymora for Leipziger Volkszeitung.
Last year, in commemoration of his 100 anniversary, Browse Gallery  honoured the multitalented artist and political activist Robert Wolfgang Schnell with an extensive exhibition at Kunstquartier Kreuzberg/Bethanien, which was opened by Paul Spiess, Berlin's new director of Stiftung Stadtmuseum and curator of the capital's Humboldforum.
More about the multifaceted creative work and life of Robert Wolfgang Schnell you find in his Browse Gallery artist page.