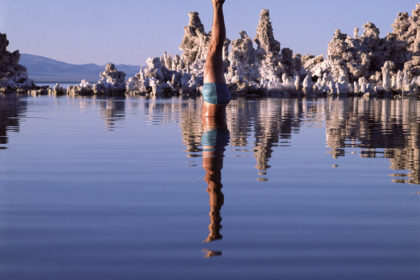 As if the large-scale rooms of the Museum of Contemporary Art – Diether Kunerth, kept in matter of cool  raw concrete, were made especially for it, the album cover art of HIPGNOSIS unfolds here what constitutes its magic and power at its core and for which it became world-famous: It inspires dreaming with surreal epic imagery and, in harmony with the music, opens the soul to access feelings and perceptions of the world that are otherwise hardly tangible for us.
The museum is not only a beautiful but also intelligent building, which was able to cope with the heat of the last week: The entire building is ecologically cooled with water from the mill stream that runs past. The museum and architect Fabian Lohrer were rightly awarded two international architecture prizes: A perfect environment for Browse Gallery touring exhibition DARING TO DREAM – The ALbum Cover and Photodesigns of HIPGNOSIS – Aubrey Powell and Storm Thorgerson.
The 50 or so large-format art prints of HIPGNOSIS album covers and 40 black-and-white photographs of the bands HIPGNOSIS worked with were beautifully hung in a collaboration between Markus Albrecht, director of the Museum of Contemporary Art, and Browse Gallery team John Colton and Sabine Drwenzki, airy and taking full advantage of the space. For a larger exhibition area with high walls, Browse Gallery, in consultation with Aubrey Powell, has produced a series of new large format art prints (up to 200 x 200 cm) with motifs from the Pink Floyd records Darkside of the Moon, Wish you were here and others, signed by the artist.
The harmony and pristine glory of the presentation upleased and touched Aubrey Powell, when he came to the opening of the exhibition in the museum. One of the best preesentations of HIPGNOSIS album art works ever, he says in a conversation with Allgäu-TV during the press preview.
In the nice video report by Boris Weltermann, © Allgäu TV,  you get an idea what to expect when you visit HIPGNOSIS to dream in Ottobeuren.
We would like to express our sincere thanks to Aubrey Powell for continuous faithand support and to Markus Albrecht and his team for the opportunity to show the HIPGNOSIS traveling exhibition in the great Museum of Contemporary Art – Diether Kunerth, for the excellent and uncomplicated cooperation and the warm welcome in idyllic Ottobeuren. The exhibition can be seen here until November 27, 2022.