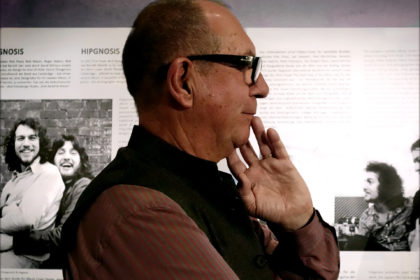 Album Cover Art and Photodesign by Aubrey Powell and Storm Thorgerson
On 29.9.2018 the exhibition, presented at European Month of Photography Berlin 2018, curated by John Colton and Emily Smeaton opened. It generated a huge media echo and more than 300 people gathered to celebrate the event with Aubrey Powell at Browse Gallery.
Exhibition: 30.9. – 11.11.2018, Open: Tue – So, 11:00 – 8:00, Location: Bergmannstr. 5, 10961 Berlin
Nach der Begrüßung durch John Colton, Browse Gallery, übernahm Martin Burger vom MINT Magazin eine kurze Vorstellung von Hipgnosis und Aubrey Powell, der das Design Studio 1968 mit Storm Thorgerson (1944 – 2013) in London gründete.
Aubrey 'Po' Powell sprach im Anschluss selbst über die Arbeit von Hipgnosis, ihre künstlerischen Ansätze und die Haltung, "the idea comes first and then the money". Er würdigte Bands wie Pink Floyd, Led Zeppelin, Peter Gabriel oder 10cc, die Hipgnosis künstlerischen Experimente immer mit trugen – oft gegen die Interessen der Plattenmfirmen.  Er freut sich über die von John Colton und Emily Smeaton kuratierte neue Zusammenstellung von Hipgnosis-Werken, die neben ikonischen Plattencovern auch zahlreiche schwarz-weiß Bilder aus den Hipgnosis-Archiven enthält, u.a. mit Porträtfografien von Pink Floyd, Syd Barrett,  Robert Plant oder Jimmy Page, sowie ungenutzte Cover-Konzepte wie die großartigen Aufnahmen der Rolling Stones für das Album Goats Head Soup oder ein Cover für Foreigner, das aussortiert wurde, weil es zu "gay" wirke.  Außerdem wünschte er der Ausstellung, die auch als Wanderschau konzipiert ist, dass sie nach Berlin auch das Interesse anderer Städte in Deutschland und in Europa findet, und für ein breites Publikum zugänglich ist.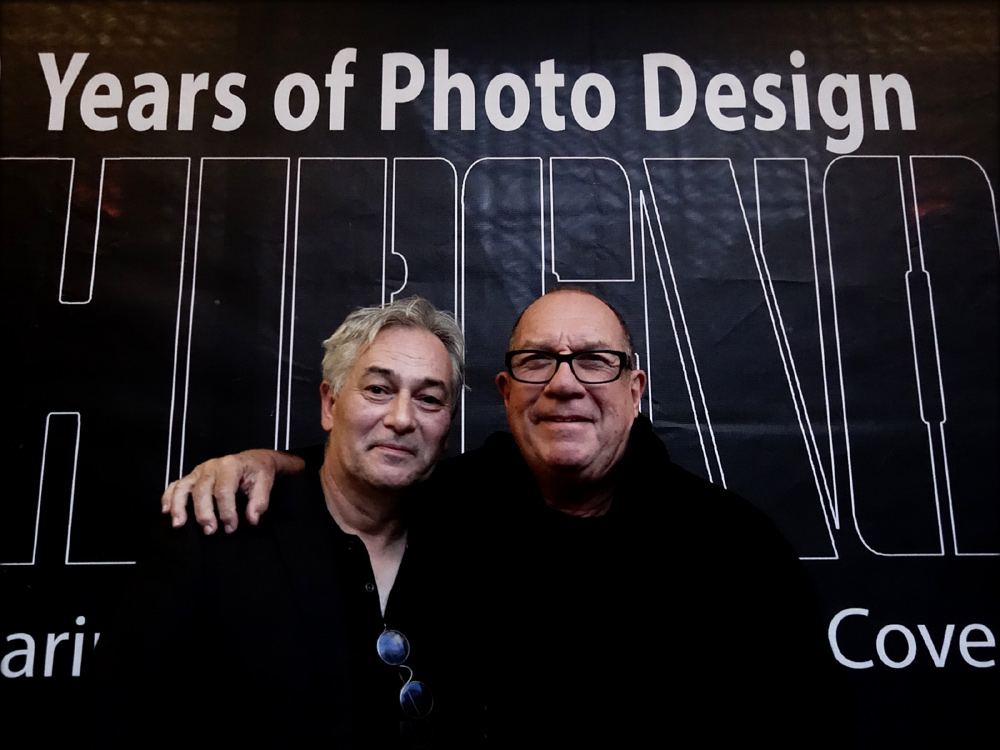 Zum 50. Geburtstag von Hipgnosis gab es dann für Aubrey 'Po' Powell noch eine Überaschung als Emily Smeaton (HyperGallery) eine Auswahl von Geburtstagsglückwünschen von Freunden und ehemaligen Kunden von Hipgnosis präsentierte, die uns bei der Ankündiguing der Ausstellung erreicht hatten. U.a. dabei waren diese:
Hipgnosis reflected visually outside the box what we were doing musically inside the box. Cheers!
Graham Gouldman, 10cc
Happy Birthday to Hipgnosis, absolutely the most significant graphic artists in the history of Rock 'n' Roll.
Dick Taylor, Pretty Things
Hey Po, congratulations on the 50th anniversary of Hipgnosis. It is indeed a great achievement and I feel honored to have worked with you and Storm. Here's to your continued success, cheers!
Andy Parker, UFO
Hipgnosis in their first fifty years have left an indelible mark on the music of my generation.   There are so many classic albums that I remember through the wonderful imagery that they created. They were also a disparate and at times difficult bunch (well mainly our much missed Storm). Collaboration was always fun, even though at times challenging, but the results were always highly original, imaginative and evocative and are now deeply embedded in our culture.  A Big Thank You and Happy Big Birthday.
Peter Gabriel
Hipgnosis' ideas were shocking, or poetic, and often beautiful too. They kept you looking, guessing, questioning, and somehow always seemed just right for the band or artist. Kind wishes,
Jill Furmanovsky
Eine große Bilderstrecke mit weiteren schönen Fotos von der Ausstellungseröffnung (29.9.18) und des Filmabends "Taken by Storm" mit Aubrey Powell am 30.9.18 finden Sie auf der Webseite von Jan Sobottka Caton on Bed.