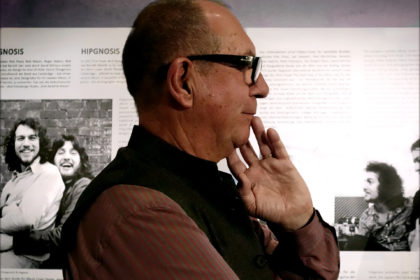 Album Cover Art and Photodesign by Aubrey Powell and Storm Thorgerson
On 29.9.2018 the exhibition, presented at European Month of Photography Berlin 2018, curated by John Colton and Emily Smeaton opened. It generated a huge media echo and more than 300 people gathered to celebrate the event with Aubrey Powell at Browse Gallery.
Exhibition: 30.9. – 11.11.2018, Open: Tue – So, 11:00 – 8:00, Location: Bergmannstr. 5, 10961 Berlin
After a brief welcome from John Colton, Browse Gallery, Martin Burger of MINT Magazin gave a short introduction of Hipgnosis and Aubrey Powell who had co-founded the design studio with   Storm Thorgerson (1944 – 2013) in London in 1968.
Aubrey 'Po' Powell himself took the mike to talk about the work of Hipgnosis, their artistic approaches and their general belief "the idea comes first and then the money".  He named and thanked bands like Pink Floyd, Led Zeppelin, Peter Gabriel or 10cc who gave Hipgnosis the freedom and trust to carry out their artistic experiments – often against the will of the music labels.
He also expressed his prode and happiness about this new collection of images in the exhibition, curated by John Colton and Emily Smeaton. Apart from icon album covers the show displays several black and white photographic prints from the Hipgnosis archives which have not been exhibited before: Among them intimate portrait photos of Pink Floyd, Syd Barrett,  Robert Plant oder Jimmy Page as well as some unused cover concepts, i.e. the wonderful bw photos of The Rolling Stones from a photo shoot for the album Goats Head Soup or a cover for Foreigner, which was rejected by the producers because it felt "too gay" for the image of the band.  In his closing remarks Aubrey Powell expressed his hope that the exhibition which is conceived as a touring exhibition will find interested parties to host the show in other cities in Germany and on the European mainland and be made accessible to a broad international audience. Browse Gallery Berlin will manage the tour and provide further information to interested parties. Enquiries: info@browse.gallery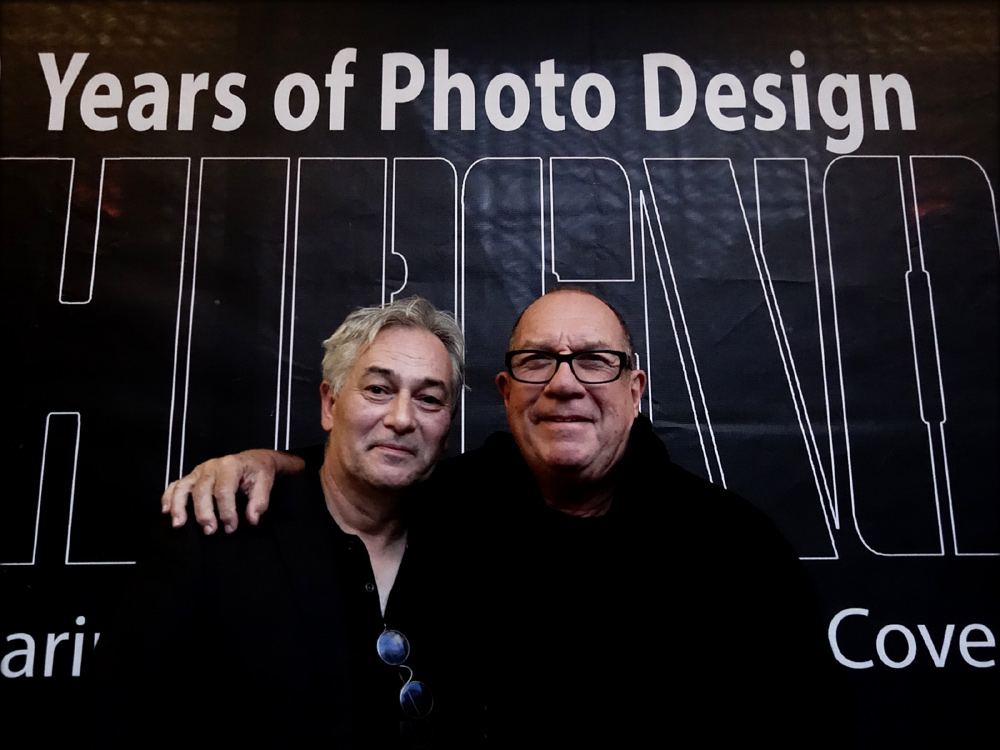 Creative Director Pink Floyd and Hipgnosis-Founder Aubrey Powell with John Colton, Browse Gallery, Photo: Jan Sobottka
To the advent of the 50th anniversary of Hipgnosis we had a nice surprise for Aubrey 'Po' Powell when Emily Smeaton (Hypergallery) presented a selection of birthday wishes from friends and former Hipgnosis clients, the following among them:
Hipgnosis reflected visually outside the box what we were doing musically inside the box. Cheers!
Graham Gouldman, 10cc
Happy Birthday to Hipgnosis, absolutely the most significant graphic artists in the history of Rock 'n' Roll.
Dick Taylor, Pretty Things
Hey Po, congratulations on the 50th anniversary of Hipgnosis. It is indeed a great achievement and I feel honored to have worked with you and Storm. Here's to your continued success, cheers!
Andy Parker, UFO
Hipgnosis in their first fifty years have left an indelible mark on the music of my generation.   There are so many classic albums that I remember through the wonderful imagery that they created. They were also a disparate and at times difficult bunch (well mainly our much missed Storm). Collaboration was always fun, even though at times challenging, but the results were always highly original, imaginative and evocative and are now deeply embedded in our culture.  A Big Thank You and Happy Big Birthday.
Peter Gabriel
Hipgnosis' ideas were shocking, or poetic, and often beautiful too. They kept you looking, guessing, questioning, and somehow always seemed just right for the band or artist. Kind wishes,
Jill Furmanovsky
Many more nice photos of the exhibtion opening (29.9.18) and the film screening of Roddy Bogawa's "Taken by Storm" ( 30.9.18) you will fin on the website of photographer Jan Sobottka Caton on Bed.