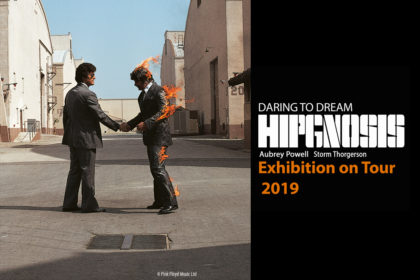 Album Cover Art & Photodesign by Aubrey Powell and Storm Thorgerson on the road
After thousands of visitors* had enthusiastically received the BROWSE GALLERY Hipgnosis exhibition DARING TO DREAM. 50 Years of Hipgnosis, Album Cover Art & Photo Design by Aubrey Powell and Storm Thorgerson initially in Berlin, the  exhibition is currently on tour through Germany and Europe and has been met with similar euphoria – most recently in 2022 at the Museum of Contemporary Art – Diether Kunerth, Ottobeuren.
Touring exhibition HIPGNOSIS Album Cover Art & Photodesign
Next exhibition stop:  July 7 – September 24 2023, Galerie im Marstall Ahrensburg

could be coming to your city too …Write us an email: info@browse.gallery

The exhibition
Between 1968 and 1983 the legendary British arthouse Hipgnosis, founded by Aubrey Powell and Storm Thorgerson (1944 – 2013), designed some of the most iconic album covers in music history. With their radical, often surreal image compositions and innovative photographic designs they influenced generations of photo designers and created images which transformed album cover design into art, admired and loved by millions of people all over the world: Atom Heart Mother, The Dark Side of the Moon, Wish You Were Here, Animals (Pink Floyd), Houses of the Holy (Led Zeppelin), Scratch (Peter Gabriel), How Dare You (10cc) oder Love Drive (Scorpions) – to name only a few of the approx.  350 covers which Hipgnosis designed.
To the advent of Hipgnosis 50th birthday Browse Gallery conceived the exhibition DARING TO DREAM. 50 Years of Hipgnosis, Album Cover Art & Photodesign by Aubrey Powell and Storm Thorgerson. The exhibition consists of a series of large format  prints of iconic Hipgnosis album covers and a number of black & white photo portraits of cult rock bands like the Pink Floyd and Syd Barrett, Rolling Stones, Led Zeppelin, The Who, Paul McCartney and the Wings etc.. Some of these photographs have never been exhibited before. Captions in German and English language privide bits of the stories behind the creation of the images. The unique Hipgnosis works assembled in the exhibition are also on offer to the public in signed and limited editions of high quality silk screen and Fine Art prints.
In the following short video, produced by film maker and photographer John G. Moore you will get an idea about the look and the size of the exhibition.
History – Berlin premiere at EMOP 2018
The exhibition, curated by John Colton and Emily Smeaton in cooperation with Aubrey Powell,  was presented as one of the most important shows of European Month of Photography Berlin 2018. It premiered in Berlin 29 September 2018 with an opening attended by Aubrey Powell:  Impressions from the opening in Berlin 29.9./30.9.2018
After a fantastic opening weekend with hundreds of people enjoying the exhibition and presence of the artist, Aubrey signing books and talking about Hipgnosis and the partnership with Storm Thorgerson after the film screening of Roddy Bogawa's "Taken by Storm" the exhibition received after a huge and appreciative media coverage and drew large crowds of visitors continuously.
Among the extensive media coverage of the exhibition there was a Deutsche Welle TV report in English which you can still find online here: https://www.dw.com/en/creative-album-cover-art/av-45679188
Enthusiastic responses, word of mouth and personal recommendations by exhibition visitors in social media have done their bit to fuel the overwhelming public interest. Around 15.000 people came to see the show in Berlin until it closed (after an extension of the planned showing tome) on November 11.
DARING TO DREAM – HIPGNOSIS exhibition on tour
Decision makers of two cultural institutions, Kulturbäckerei Lüneburg and Küstenmuseum Wilhelmshaven had seen the original Berlin show and set their minds on bringing the Hipgnosis exhibition to their cities.  On January 19 it opened in Lüneburg and was met again with an overwhelming response by the public – again around 15.000 thousand of people saw the exhibition until its closure at Feb. 24. On March 16. 2019 the exhibition opened at Küstenmuseum in Wilhelmshaven, again attended by Aubrey Powell,  more than 200 visitors and accompanied by a concert of the Pink Floyd tribute band Speak to Me. Impressions from the opening in Wilhelmshaven you can see in this short  newspaper video. After a long Covid indiced break,  the exhibition was on display  in the fantastic Museum of Contemporary Art – Diether Kunerth, Ottobeuren from August to November 2022.

"In rock 'n' roll many things are possible, if only you have the balls", says Aubrey Powell about Hipgnosis creative work  and collaboration with their client bands:
You can make great things possible too. Treat yourself and your audiences to the deep experience and pleasure of meeting the power of their ideas and and the emotional links grown between these ideas, the music they are associated to and the many moments marked by them in our collective cultural biographies.
DARING TO DREAM coming to your city?
If you like to bring the show to your city, we gladly talk with you on the phone ++49-15233609236 or via mail info@browse.gallery.